Sugarmet Tablets: A Metformin Composed Drug
Posted by Admin on July, 23, 2021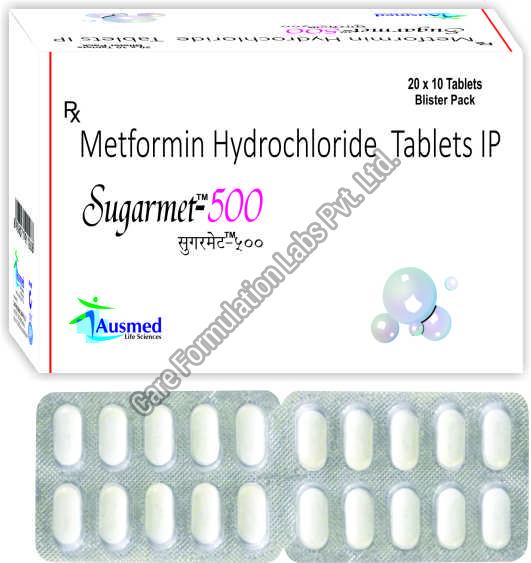 Metformin is recommended as a first-line medication for treating type 2 diabetes, especially in patients with obesity. It is also prescribed to women suffering from polycystic ovary syndrome. This pill is taken orally and does not result in weight gain. Metformin is restricted from people with kidney problems. It is a content in the Sugarmet tablets.

Sugarmet 500 Tablets
Sugarmet tablets, prescribed for treating diabetes, is composed of metformin which is categorised under a group of the anti-diabetic drug, called biguanide. This medicine functions in lowering the increased level of blood sugar observed in patients suffering from type 2 diabetes. When exercise and diet alone cannot control the blood sugar levels in these patients, Sugarmet 500 tablets are prescribed for this particular condition.
Type 2 diabetes is a disease that impacts the way a human body processes glucose. Type 2 diabetes hampers the production of insulin in the human body and stops it from performing its function. Sugarmet 500 Tablets restores the response of the body's insulin and hence lowers the amount of blood sugar secreted by the liver and delays its absorption by the intestine or stomach. These pills are also used for stimulating ovulation in women and normalise the menstrual cycle.

Side-effects
Treating diabetes with Sugarmet 500 tablets may lead to the formation of a serious condition termed lactic acidosis in some patients. In this condition, the amount of accumulated lactic acid in the blood is quite high. This hyperaccumulation of lactic acid might affect liver and kidney functions. This pill may also result in lowering the levels of vitamin B-12.
Sugarmet 500 tablets should always be taken under the physician's guidance while using it with insulin, as it might lower the blood level adversely. The metformin in these tablets may cause digestive problems, vomiting, nausea, diarrhoea, loss of appetite and abdominal pain at the beginning.

Directions of Use
The Sugarmet 500 tablets should be taken along with food to avoid any abdominal pain and nausea. The dosage should be taken on a regular basis without skipping. It is recommended to maintain the same time of taking the drug every day for an effective result. Discontinuation of this medicine without the doctor's recommendation is prohibited. Having a balanced diet and leading a healthy lifestyle is very important while taking this drug.
The physician recommending this medicine should be well informed about the liver, kidney or heart problems, if any, beforehand. Pregnant women or breastfeeding women should always consult a doctor before consuming this drug. Avoiding intake of excessive alcohol while being on this medication should strictly be prohibited.

Safety Measures
• Alcohol is strictly forbidden to take along with Sugarmet 500 tablets.
• Generally taking this medicine is not recommended for pregnant women and women who are breastfeeding.
• The Sugarmet 500 tablets should be taken under doctors guidance and with caution if a person has a prior record of liver diseases.
• Also for patients with kidney problems, the dosage of this drug is prescribed according to their renal functions. In this case, monitoring the kidney functions on regular basis is recommended.

Conclusion
There are many companies that are engaged as Sugarmet 500 tablets supplier throughout the country. They provide this tablet with each film coating of metformin hydrochloride IP 500 milligrams. They offer these drugs in blister type packaging of 20X10 units. These medicines come with a shelf life of 18 to 24 months. These companies accept a minimum order quantity of 100 pieces per box.
This entry was posted on July, 23, 2021 at 11 : 17 am and is filed under pharmaceutical products. You can follow any responses to this entry through the RSS 2.0 feed. You can leave a response from your own site.